Avaya System Manager Monitoring Bot
This bot is extremely beneficial and useful to check daily SM dashboard, license, active alarms, registered devices, user registration, and firewalls
Top Benefits
Fast, efficient processing without the need for human intervention
Preventing from service impact
Bot will save time for the support team
Tasks
Read configuration file, store data in user created variable
Create folder structure, delete existing files and copy report Excel sheet into output folder
Open report Excel sheet, launch Avaya SMGR webpage, login, go to breeze server administrator, SM dashboard, Sip firewall
Go to registration summary, user registrations , alarms, synchronization and replication tab
Read & fetch respected reports in CSV format and logout
Insert fetched data from CSV files, save and close sheet
Send Avaya SMGR report Excel sheet to configured email address
Avaya SMGR monitoring bot is extremely beneficial for those who are already having Avaya contact center infrastructure or planning to install it. Daily SMGR system-related monitoring such as session manager dashboard, license status, active alarms, registered devices summary, user registration status, SIP entity monitoring, SIP firewall status, synchronization status, replication status, events, and many more are required and performed manually. With the help of this bot, all the manual processes will be automated without any human involvement.
The bot can be scheduled to run as per business requirement on predefined intervals which can be hourly/ daily/ weekly or any desired time and at the end of the execution, a consolidated detailed report will be attached and send to the respective configured email id.
Apart from listed SMGR Avaya Breeze server administrator, session manager dashboard, Sip firewall, registration summary, user registrations, Events alarms, inventory synchronization, replication status, and consolidated reports. The bot can also perform real-time monitoring of session manager sip entity monitoring, admin-level tasks, performance check, routing pattern configuration, global settings, geographic redundancy, shutdown history, schedule reports, advance import and export activity, license status, etc.
Buy Now
$500 USD per bot
Annual Subscription
Bot Security Program

Applications

Business Process

Category

Vendor
Automation Type

Bot

Last Updated

January 5, 2021

First Published

January 5, 2021

Enterprise Version

11.3.3

ReadMe
Support

Mon, Tue, Wed, Thu, Fri 9:00-17:00 UTC+0
+61431281807
See the Bot in Action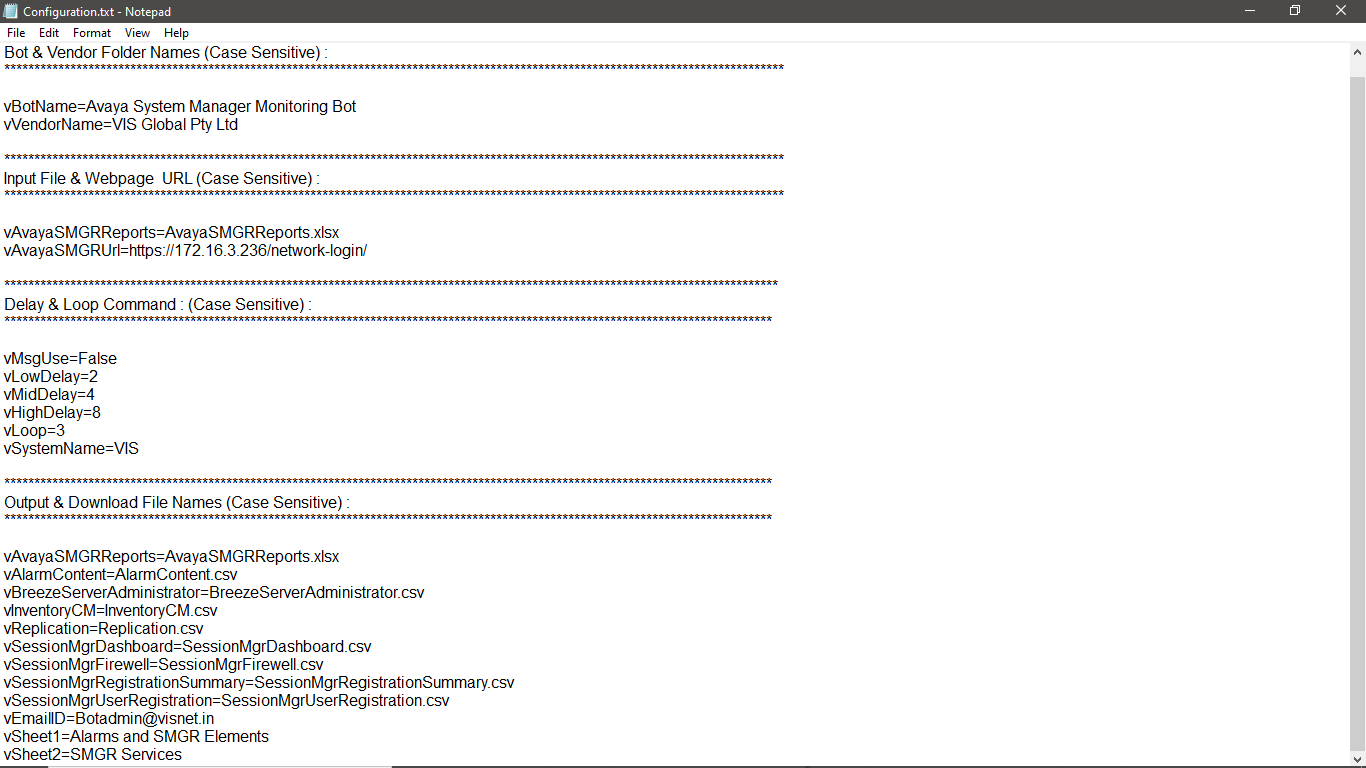 PREV
NEXT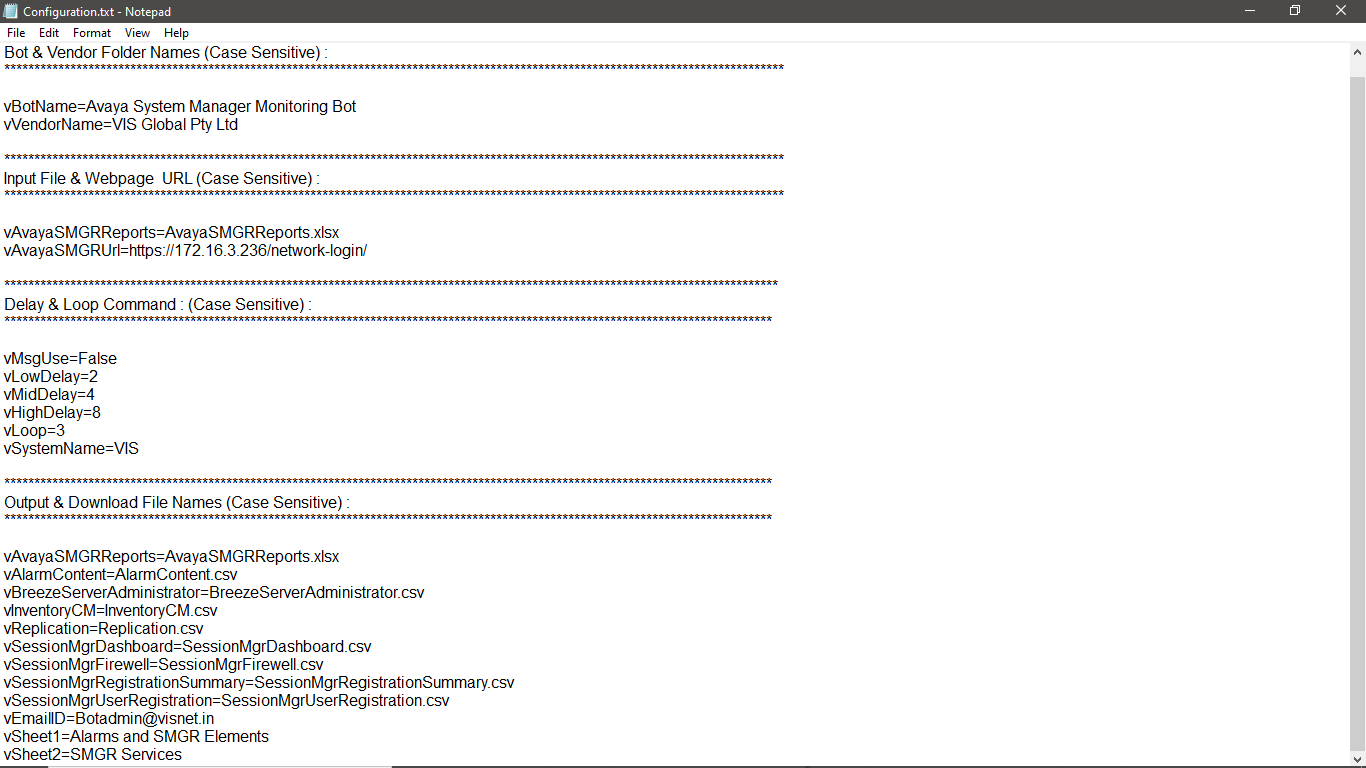 Setup Process
Install
Download the Bot and follow the instructions to install it in your AAE Control Room.
Configure
Open the Bot to configure your username and other settings the Bot will need (see the Installation Guide or ReadMe for details.)
Run
That's it - now the Bot is ready to get going!
Requirements and Inputs
Avaya SMGR 7.1.x or higher
Avaya provided Linux OS 6.x
Microsoft Excel 2013 or 2016
Avaya SMGR admin user credential
AvayaSMGRReports.xlsx
Configuration.txt