Bot Wishing Team Members Happy Birthday via WhatsApp
Bot sends WhatsApp birthday wishes to employees in a specified WhatsApp group chat with a personalized/general quote. The same wish is also sent via Email
Top Benefits
Sending Greetings at any preferred time as bot works 24/7
Increase employee satisfaction through acknowledgement
Could be scheduled or manually executed
Tasks
Pick employee info and quotes from Excel file
Checks if a personalized quote exists and if not, picks a generalized quote
Search for the specified group name in the connect WhatsApp Web account
Selects a random image from the provided set of images and send in the group chat
Sends birthday greeting as an Email and notifies relevant personnel on process completion
WhatsApp Birthday Greetings bot monitors employee's birthdays on a daily basis based on Master data provided by a certain organization. The bot allows the user to enter personalized messages if preferred. If any personalized messages have not been provided, the user is expected to have provided general quotes to be sent to relevant employees on their birthdays. The bot will pick a random greeting card image placed in a specified folder (check ReadMe document) to send along with a WhatsApp birthday wish (personalized or general) as provided by the user in a specified WhatsApp group. The same message will be sent as an E-mail ensuring that even if the WhatsApp message was not sent successfully, the wishes will be received by the intended employees by other means.
Buy Now
$100 USD per bot
Annual Subscription
Bot Security Program

Applications

Business Process

Category

Vendor
Automation Type

Bot

Last Updated

January 28, 2021

First Published

July 27, 2020

Enterprise Version

11.3.3

ReadMe
Support

Mon, Tue, Wed, Thu, Fri 9:00-17:00 UTC+0
+94 112 576 38
See the Bot in Action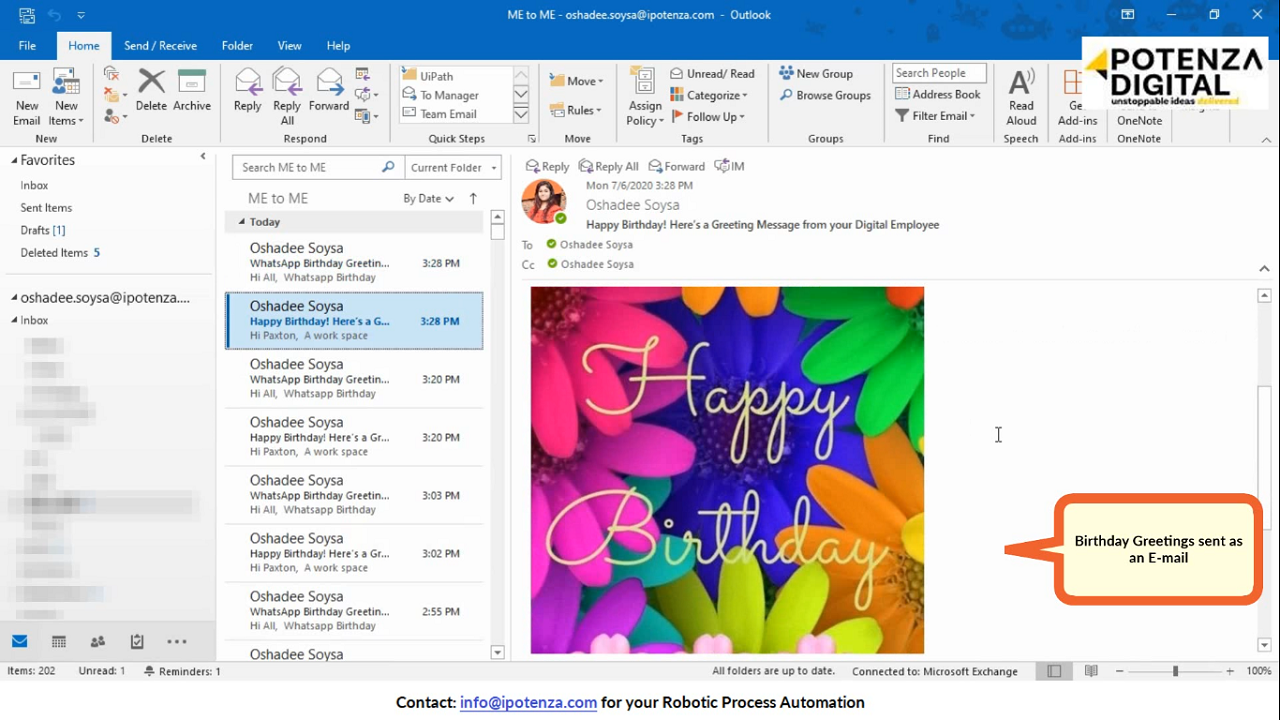 PREV
NEXT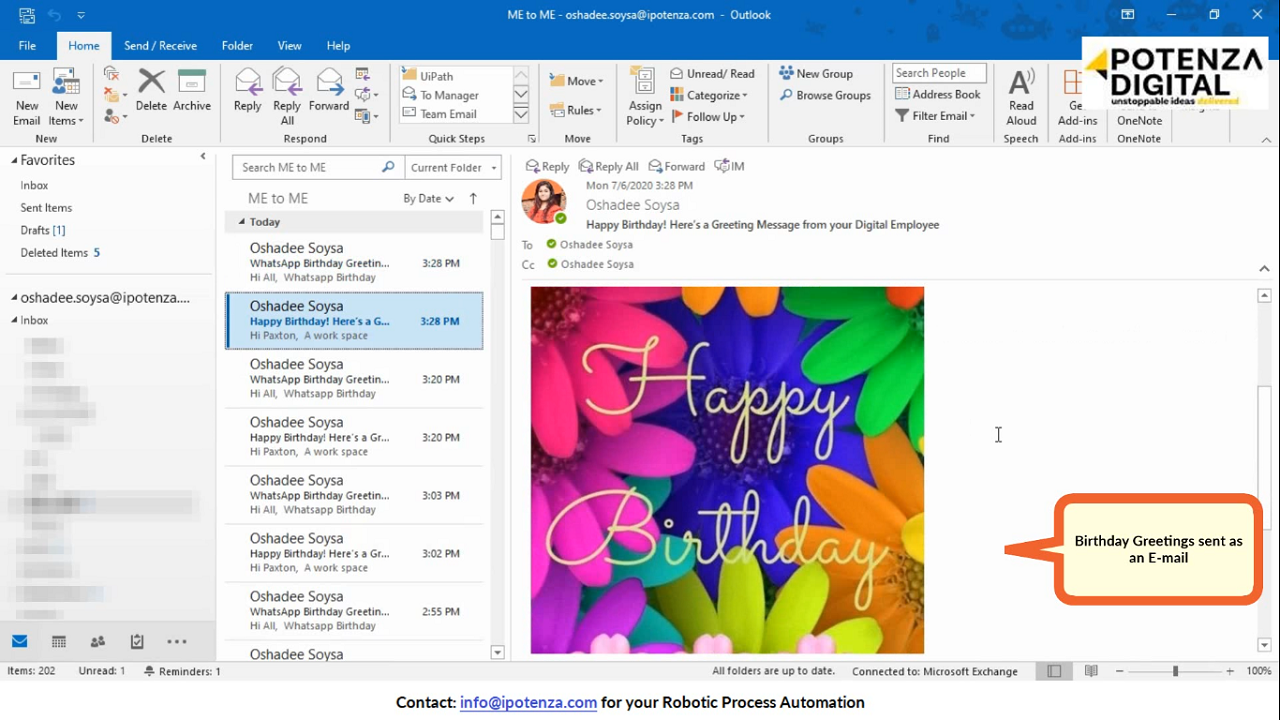 Setup Process
Install
Download the Bot and follow the instructions to install it in your AAE Control Room.
Configure
Open the Bot to configure your username and other settings the Bot will need (see the Installation Guide or ReadMe for details.)
Run
That's it - now the Bot is ready to get going!
Requirements and Inputs
Birthday greeting images placed in the specified folder
Birthday info list Excel file filled with employee information along with personalized or at least generalized quotes
Connected WhatsApp account accessible through the web (Click "Keep me signed in" check box to stay signed in)
Automation Anywhere extension Installed in Google Chrome
Email server settings configured in AA Client (Gmail/Microsoft Exchange/Outlook)