Convert JSON to CSV
This bot converts JSON to CSV.
Top Benefits
Quick and seamless integration
Easy to use and integrate in new or existing tasks without any technical supervision.
Use this bot to convert JSON to CSV.
Bot Security Program

Applications

Category

Downloads

1348

Vendor
Automation Type

Bot

Last Updated

August 13, 2020

First Published

March 8, 2018

Enterprise Version

10.5
Support
See the Bot in Action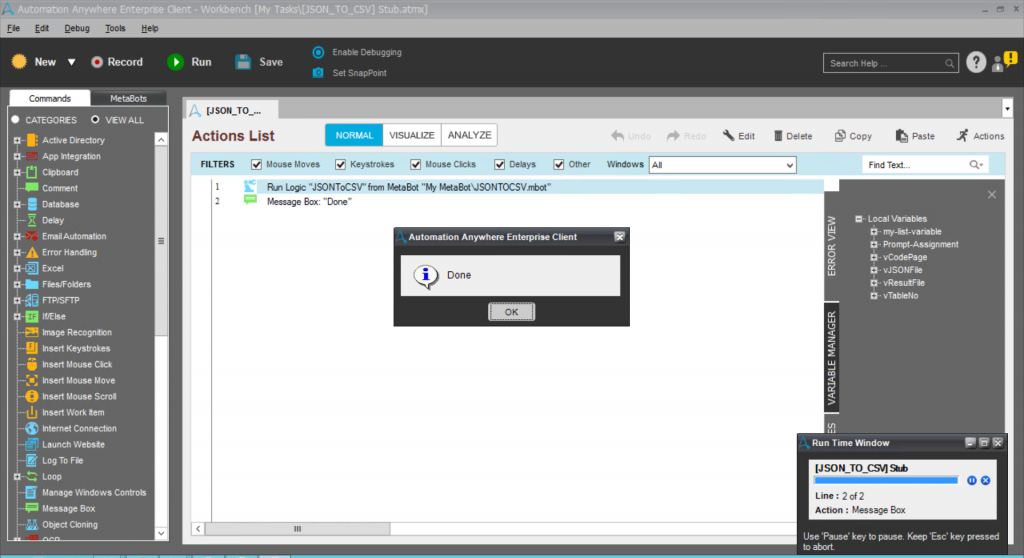 PREV
NEXT
Setup Process
Install
Download the Bot and follow the instructions to install it in your AAE Control Room.
Configure
Open the Bot to configure your username and other settings the Bot will need (see the Installation Guide or ReadMe for details.)
Run
That's it - now the Bot is ready to get going!
Requirements and Inputs
Functional AAE 10 sp2 setup
Inputs: CSVToJSON : From CSV to JSON generated as output. The CSV's will be generated with the name prefixed with Table_ and counter starting from 0. For example in case of a JSON data for 5 tables you would be able to see Table_0.csv Table_1.csv Table_2.csv Table_3.csv Table_4.csv, after successful conversion. To get all tables you need to supply blank value using a value variable to the input parameter vTableNo, TableNo will convert the specific table from the JSON object, The code page need to be passed to deal with language specific character e.g. for French you need to pass 125Pass a blank value using a value variable for default code page or following UTF8 encoding for reading JSON/CSV.