Create Purchase Order in ZOHO
Create Purchase Order in ZOHO application.
Top Benefits
Quick and seamless Integration with Zoho
Easy to use and integrate in new or existing tasks without any technical supervision.
This bot is designed to login into ZOHO, Go in Purchase Order tab, and create a Purchase Order with following details: PO Number, Product Details, Product Quantity, Subject, Requisition Number, Tracking Number, Vendor Email Address, Vendor Phone Number, Vendor Name.
All fields are mandatory.Extract the zip and copy Bot Store folder inside extracted folder in "My Task" and any metabot if applicable in "My Metabots" on your local Automation Anywhere repository. 
Bot Security Program

Applications

Business Process

Category

Downloads

87

Vendor
Automation Type

Bot

Last Updated

July 24, 2020

First Published

May 25, 2018
Support
See the Bot in Action
PREV
NEXT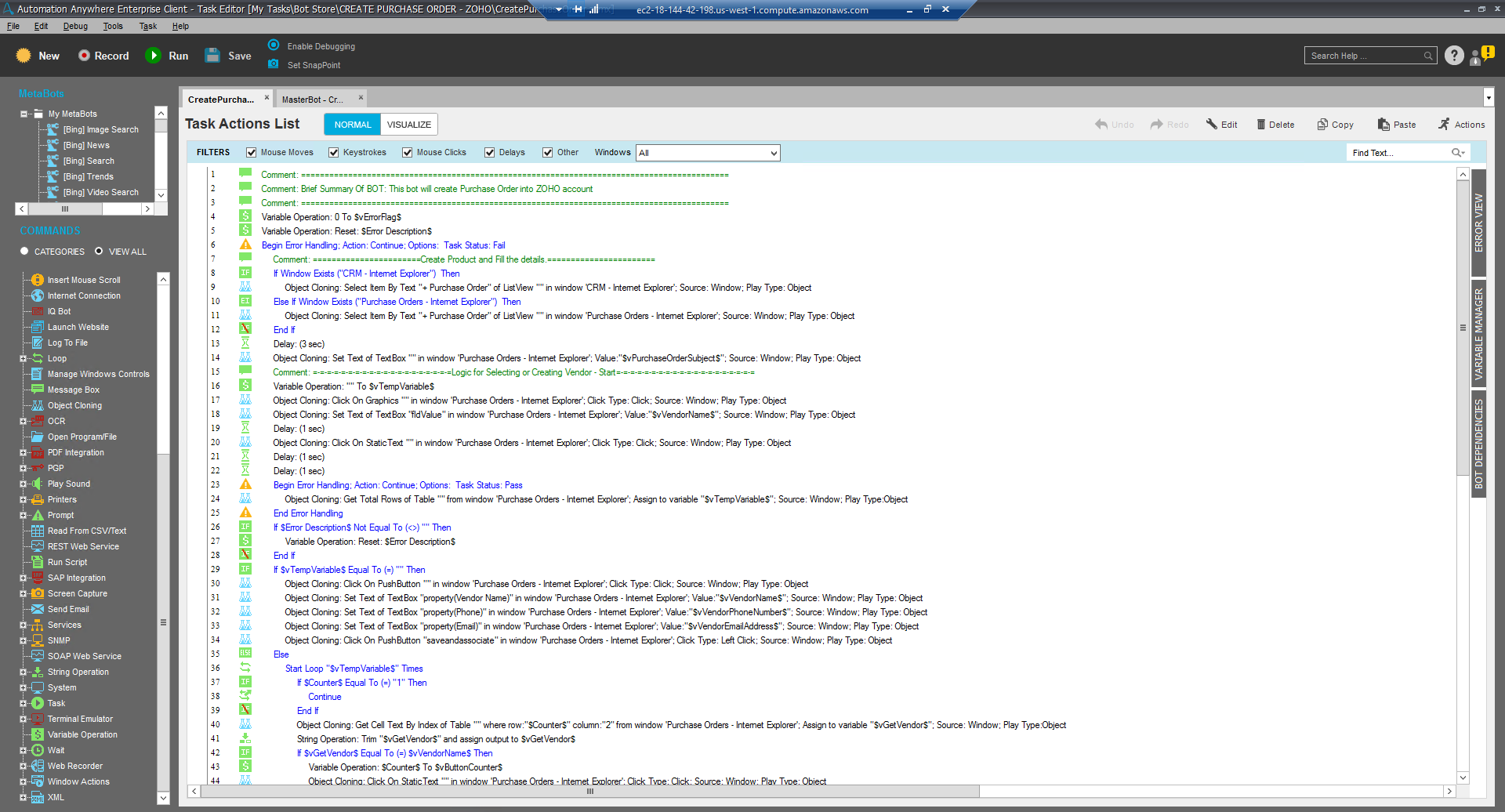 Setup Process
Install
Download the Bot and follow the instructions to install it in your AAE Control Room.
Configure
Open the Bot to configure your username and other settings the Bot will need (see the Installation Guide or ReadMe for details.)
Run
That's it - now the Bot is ready to get going!
Requirements and Inputs
Required access of ZOHO application, Required Automation run-time client installed, Required all Bots for Create Purchase Order process and all this bots should be place in a specific folder.
Inputs: PO Number, Product Details, Product Quantity, Subject, Requisition Number, Tracking Number, Vendor Email Address, Vendor Phone Number, Vendor Name, ZOHO Application URL, ZOHO Credentials