Excel Slicers
This bot can select one or more items or clear an existing filter on an Excel Slicer to filter data on a report or pivot table.
Top Benefits
100% Accurate filtering of Excel data with slicers
Enhances functionality of AA Excel Command
Simple to deploy and use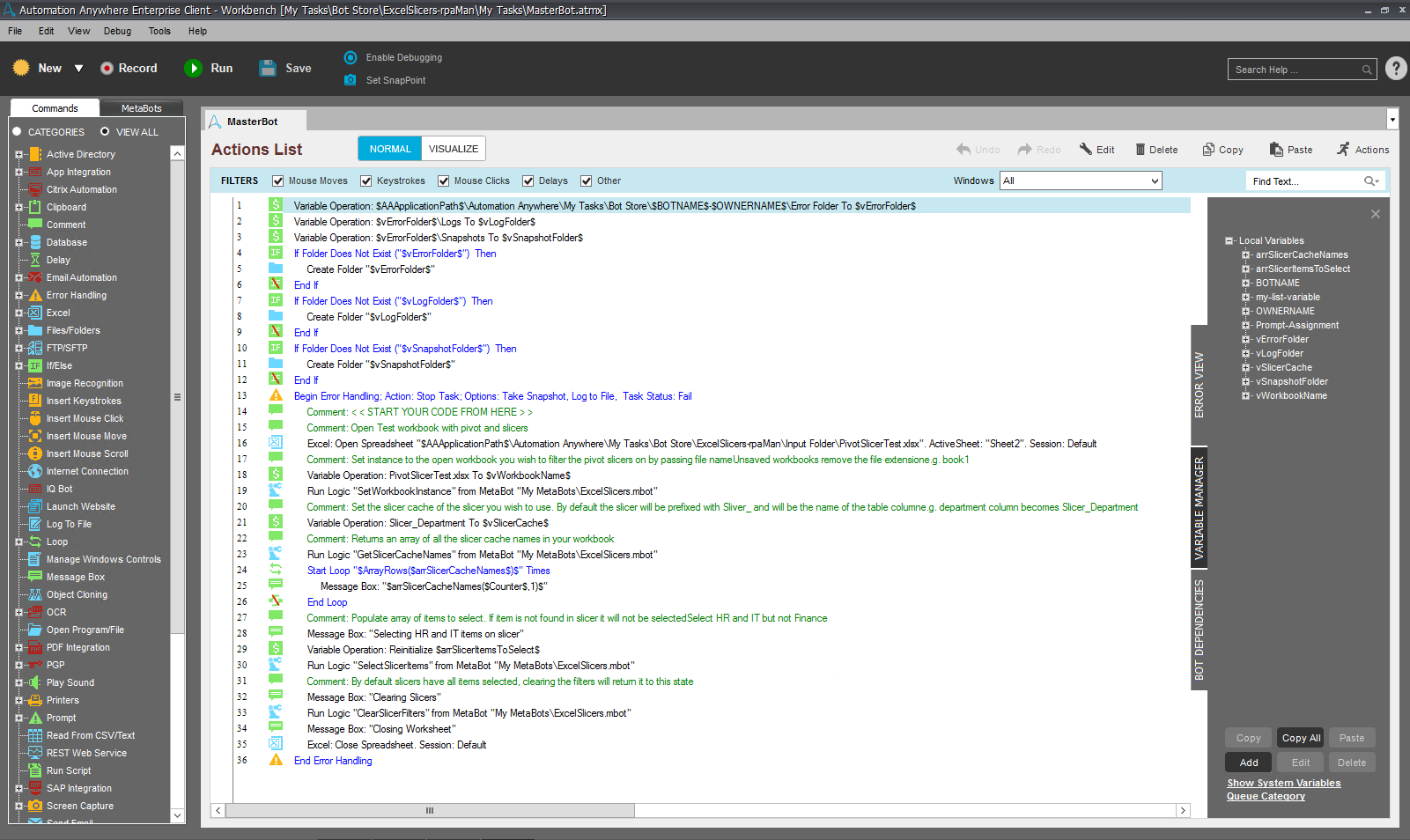 Tasks
Selects one to many slicer items on an Excel Slicer
Clear any currently filtered Excel Slicer
Return information on slicers within Excel Workbook
Currently there are some Excel actions not included in the Automation Anywhere default Excel Command and are not possible to achieve with object cloning alone.
This bot allows you to set an instance of a currently open Excel workbook and perform a series of actions on Excel Slicers. This allows you to very simply filter an excel pivot output, such as a report, to the specifications of the business before releasing.
The slicer selection works with pivots generated by data from a worksheet, a database or an OLAP cube.
Bot Security Program

Applications

Business Process

Category

Downloads

84

Vendor
Automation Type

Bot

Last Updated

July 24, 2020

First Published

December 9, 2019

Enterprise Version

11.x

Community Version

11.3.1

ReadMe
Support

Mon, Tue, Wed, Thu, Fri 9:00-17:00 UTC+0
+44 07759 45608
See the Bot in Action
PREV
NEXT
Setup Process
Install
Download the Bot and follow the instructions to install it in your AAE Control Room.
Configure
Open the Bot to configure your username and other settings the Bot will need (see the Installation Guide or ReadMe for details.)
Run
That's it - now the Bot is ready to get going!