Performing Various Operations on Adobe Acrobat Pro
This bot performs various operations on Adobe Acrobat Pro such as opening PDF files, converting them to editable formats, searching for keywords, getting page numbers, saving them on a separate location and closing them.
Top Benefits
These features help streamline a typical data pre-processing step involving scanned/ digitized documents where certain pages of information need to be extracted from a consolidated document which can eventually be fed to the next step in the data extraction process.
Opening PDF Files, Converting to Editable PDFs, Searching for key words and getting page numbers, saving PDFs and closing PDFs
Document types such as insurance claims, loan applications, job applications are usually an amalgamation of multiple forms, explanation of terms and other pieces of information. For performing a particular process such as entering a claim information into an enterprise system, specific pages need to be looked at in order to search for specific pieces of information. This metabot enables this operation by leveraging Adobe Acrobat's OCR technology and advanced search features to convert scanned documents into searchable docs and subsequently searching for those key words to return page numbers, which are then used to split these specific pieces of information out of the overall consolidated doc. Adobe Acrobat Pro / DC X and higher
Key Use Case: Extracting specific pages/ forms/ terms from Healthcare Dispute forms, Insurance Claims, Loan Applications, Consolidated Invoices, Job Applications etc.
Bot Security Program

Applications

Business Process

Category

Downloads

310

Vendor
Automation Type

Bot

Last Updated

October 10, 2018

First Published

October 1, 2018
Support
See the Bot in Action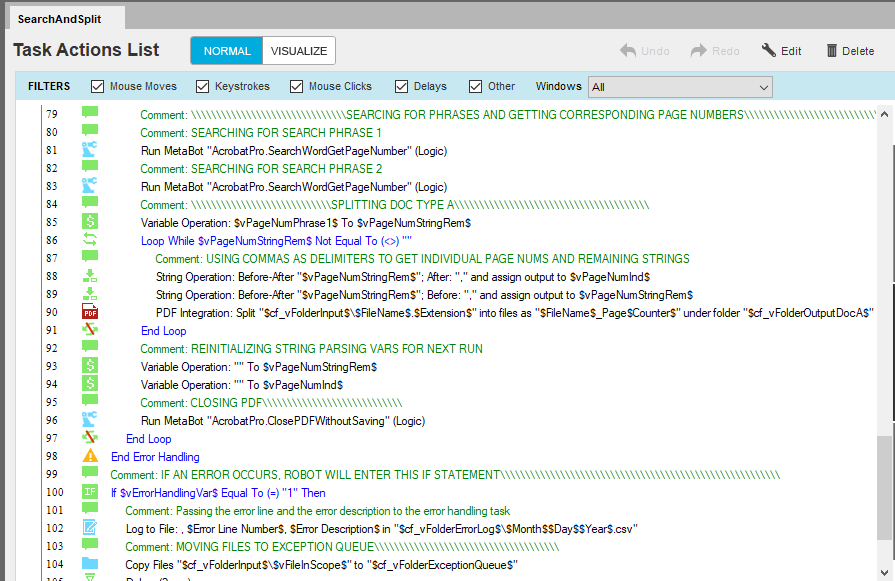 PREV
NEXT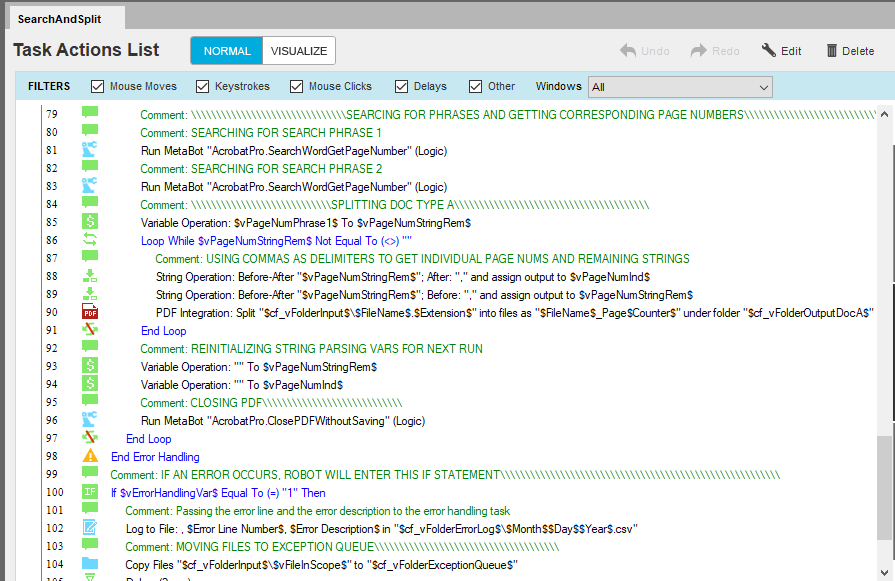 Setup Process
Install
Download the Bot and follow the instructions to install it in your AAE Control Room.
Configure
Open the Bot to configure your username and other settings the Bot will need (see the Installation Guide or ReadMe for details.)
Run
That's it - now the Bot is ready to get going!
Requirements and Inputs
Adobe Acrobat Pro / DC X and higher
Inputs: Search Phrases, Input and Output Folder Paths